The Farnsworth House, Gettysburg, PA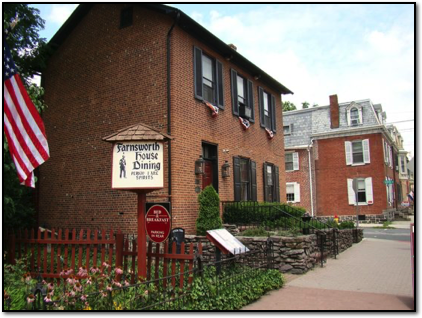 The first time I stayed at The Farnsworth House I was in the McFarlane Room. This was in August of 2017. I had a few interesting experiences in there with some of the more well documented ghosts in the house. After eating far too much at the restaurant downstairs, I retired to my room to lay down to recover. It felt as if someone was rubbing my back. I was told this was likely Mary, a nurse who tends to anyone who doesn't feel good. Mary was actually a midwife in town, delivered a baby at the Farnsworth, and later contracted and died from Typhoid from two runaway orphans (from the dreaded Gettysburg Orphanage). The orphans, Sissy and Jonathan, are known to frequent the Inn.
During the middle of the night I was woken up by what appeared to be someone stomping loudly in the middle of my room. There are several possibilities for this. The upstairs area is a known haunt for several soldiers who died on on the property, three were even left for dead on what was once a back porch upstairs. Most believe it was Walt, a redheaded confederate who was a sharpshooter who died in the attic. He is believed to have been the one to kill Jennie Wade. The other possibility is the resident child ghost Jeremy, who apparently can be a bit of a brat.
Jeremy is also my guess for the ghost who flung my iPad and iPhone off the nightstand next to my bed and onto the floor. At that point I told Jeremy I would not be pleased if he broke my expensive toys! Jeremy unfortunately died when crushed by a horse and buggy in the street in front of the Inn. He was rocked in his final hours by his father, and the rocking chair usually resides in the McFarlane room!
In July of 2018 I returned to the Farnsworth Inn, and stayed in the McFarlane room again. I did not have any experiences there, but I did in the cellar! I was sitting on the left hand side, near what they refer to as the room where something dark dwells. So dark the door is kept shut and it's been blessed by a preist. I heard bizarre scratching from it, but what really got to me was when I heard tiny feet scuffling on the brick floor behind me. Like I said, nobody was there. I promptly got up and moved a row up.
Visit
The Farnsworth House
in Gettysburg, PA