The Eaglemere Inn, Eaglesmere, PA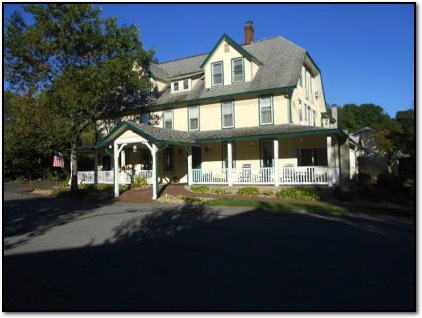 Two rooms, The Hardly Able and The Sweet Shop, on the second floor of the inn are some of the hot spots the public is able to experience, should they decide to book the rooms. Both rooms are in the back right corner of the inn, and likely were once connected given their proximity. When the inn was constructed it was actually a boarding house for laborers helping to build the town and the railroad in the area. Both of these room appear to be the residence of a spirit who simply likes their space and to be left alone. My sense was this was a very large man, in stature, and that he died from a heart attack or similar ailment of some kind. This was simply due to what I was feeling in these rooms. A second individual, who indicated they were sensitive, also got the same feelings, even though I told them nothing of my own feelings or investigations. In the Hardly Able Room when I asked if anyone was there, I got
an EVP response, "No!
Again, this indicates to me this is is a spirit that likes their solitude in this area.
What was once the garage has been converted into guest rooms, a laundry room, and the Inn Keeper's home (the upstairs area). All of these areas, along with the kitchen in the main inn and the dining area are the domain of one of the former owners, Joan. Joan's official death was ruled a suicide, but many in the town do not believe this was the case and have long suspected foul play involving her husband. When the current owners found Joan's old cookbook and began using the recipes it seemed to have stirred up her spirit in the place. She is a watchful spirit, but harmless.
There are other areas in Eaglesmere worth investigating. The lake and town were once Native American lands. Up the street from the inn is the town green, where once stood a hotel that long ago burned down. This area has been fairly active in my past investigations, with high EMF fluctuations. Here though one must be careful, because near the gazebo there are underground electrical lines.
Two to three miles from the Inn is also the ruins of the 18th century religious commune Celestia, which again showed some high EMF readings in areas. Outside of some nearby homes, most of this area should be devoid of EMF fluctuations.
Visit
the Eaglesmere Inn
in Eaglesmere, PA